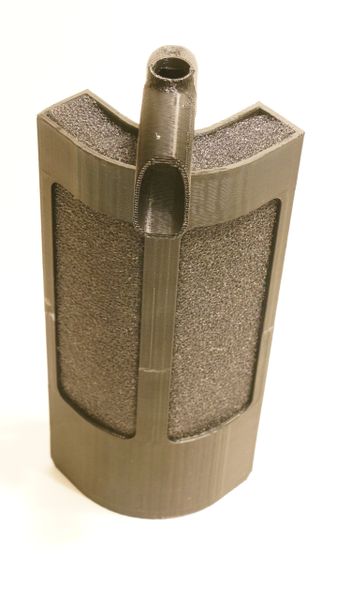 MINI Corner HMF
MINI Corner HMF Kit (See Drawings in photos for ordering information.) Max filter height is 12". Please contact me if you need something taller.
Kit includes MINI corner HMF frame, filter pads and lift tube assembly (Lift tube assembly has diffuser, tube, spout, and rigid airline)
This filter must be siliconed into place in order to work properly.
(2) separate removable bio filter pads. Don't loose all your bacteria load at one time. Simple remove one filter, wash and replace every so often. 1/2 of your bacteria laden filter remains.
Airlift tube with built in diffuser. No air stones to replace.
Airlift tube is removable
Spout swivels to direct flow back into your tank where you want it.
unique engineered spout with air escape to reduce air bubbles on water surface and noise
The MINI HMF leaves no room behind the filter for additional items. It is designed to be as compact as possible.
Custom printed for your tank needs. Filter height and substrate depth required for ordering.